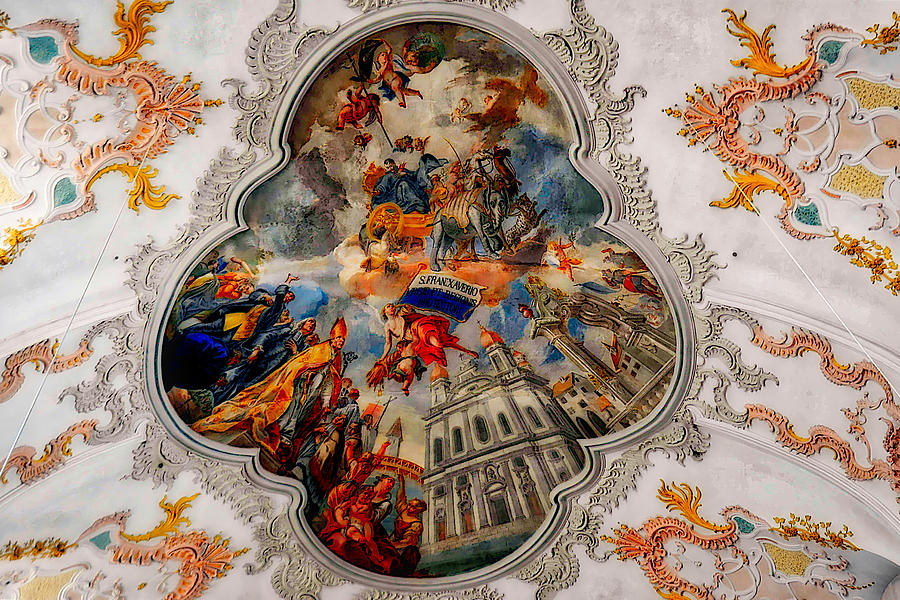 Medium
Photograph - Fine Art Photography
Description
This is the primary mural painted in the Jesuit Church of Lucerne, which was built between 1666 - 1677. But first, a little history on the church itself.

The Jesuit order, established in 1534 by the Spanish officer Ignatius of Loyola was the leading force in the catholic counter-reformation. This Jesuit order served as papal elite troops in the spiritual fight against Protestantism, also known as the Swiss Reformation. It was the result of corruption that deprived the Roman Catholic Church of its credibility during the last centuries of the Middle Ages. The reformation of the church in Switzerland by Huldrych Zwingli, John Calvin and Guillaume Farel came a little later than the reformation in Germany by Martin Luther, but it did have certain independence and it was more radical. As in Germany, the Reformation began in Switzerland as a religious renewal movement and ended in a deep political division between the progressive cities of northern and western Switzerland and the conservative rural areas of central Switzerland.

The, Swiss Reformation conducted by reformates Zwingli in Zurich and Calvin in Geneva divided Switzerland and left Lucerne as the only major Swiss city to stay with the traditional catholic beliefs. The program of the catholic Counter Reformation, as laid out on the Council of Trent (1545-1563), did not really take up any theological arguments of the reformates, but rather concentrated on organizational reforms, especially on better education.

In this context, the Jesuits were called in to Lucerne by the city council in 1573 to establish a college. Ludwig Pfyffer, Mayor of Lucerne, offered annual financial support to the Jesuits out of his private funds. The Jesuit College of Lucerne was established in 1577 in Ritter Palace, a building originally erected in 1557 as a residence for mayor Lux Ritter (today Ritter Palace serves as the seat of the cantonal administration). The college grew fast and had 300 to 400 students between 1650 and 1700.

The first ideas to construct a proper church next to the Jesuit college go back to the 1630's, but only in December 1666 the cornerstone of Jesuit Church was laid, and the construction began in 1667. By 1673 the shell of the church and the main façade were completed. The church was consecrated in 1677, though the interior was not yet really finished. Several side altars were still missing and even the high altar was only erected four years later, due to financial problems. The onion-topped towers were not completed until 1893. Lucerne's Jesuit Church is the first large baroque church in Switzerland.

Uploaded
August 19th, 2016
Statistics
Viewed 72 Times - Last Visitor from New York, NY on 09/29/2022 at 3:32 AM